Next Version Preview
This is a preview software aimed at providing you with an opportunity to test-drive new builds of the next SmartSVN release. We do not guarantee that these builds will run without errors. You use this software at your own risk!
If you need a stable version, you are welcome and encouraged to download and use the
latest release version
.
Download for Windows
Windows 7+, Installer
Size: 34,061,152 Bytes
SHA: c0b6510bf2c549cb0d88a69f68c39bd822d5e3ec
Portable Bundle
Windows 7+, Archive (zip)
Size: 53,766,042 Bytes
SHA: 0aa6d8be3d236e28998a2d48ec9adf33732a44ce
Download for macOS
macOS 10.9 - 10.13, Archive (dmg)
Size: 69,348,662 Bytes
SHA: f5a5eeaf00c7c9187efbb38550bdef58b6bd46ba
Download for Linux
Linux, Archive (tar.gz)
Size: 77,088,287 Bytes
SHA: 9269b5d0bd2a27652636d0386344df5da69839e5
Note
You can install and use the preview version in parallel to the release version, in this case:
For Windows, make sure to use the Portable bundle. The installer won't work for such a setup.
The preview version (except of the portable Windows bundle) will initially copy the settings from the release version, but writes them to its own settings directory. This means that settings of both versions will diverge.
What's new in SmartSVN 9.3 RC 1?
Commit: Line-length Guide
It is possible to use the compare font in the commit input fields and show a line-length guide to make it easier to not exceed the configured line-length.

Reworked Compare
The compare algorithm has been improved to detect in-line changes over the entire block (not just line-wise as in earlier versions). This works faster and gives better results, e.g., for reformatted code blocks.

Changes: Compact Display
The Changes view optionally can hide unchanged lines.

Update and Merge: Quick Access
The Update and Merge toolbar buttons now have a popup (triggered, e.g., by holding the mouse-button pressed for a short period) for quick access of most likely options.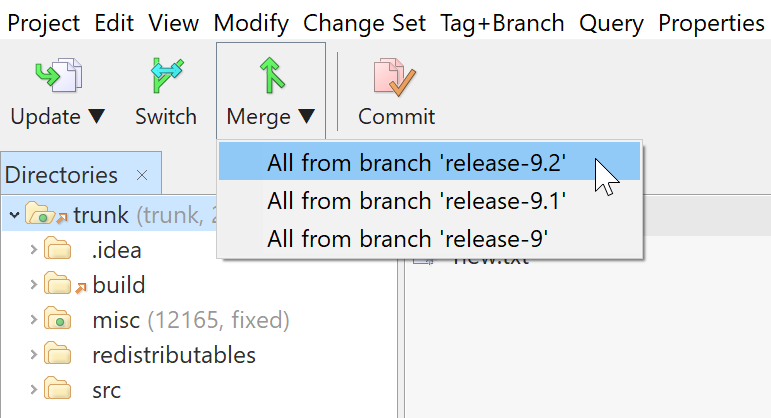 Find Action
The Find Action menu item (Ctrl + F1) is perfect for keyboard-savvy users to quickly access menu items.